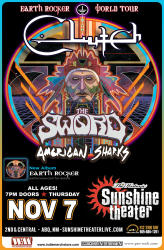 Clutch * The Sword * American Sharks
www.Pro-Rock.com
Time: 8:00pm Day: Thursday Doors: 7:00pm Ages: 13+ Ages Price: $23
This Event Has Ended
Ticket price is subject to change at door
*** CLUTCH ***
Forget whatever you thought about Clutch. Earth Rocker crumples up the bad categories that have miscast them for years — stoner rock, post-hardcore, metal, grunge — and leaves no question about what they are: a damn good rock and roll band.
Earth Rocker is a solid, straight-up rock and roll album, exactly what the band had in mind for their tenth studio album, now that their Weathermaker Records label is fully up and running. "It might be the best Clutch album that has ever existed," says guitarist Tim Sult.
It's a concise, efficient album. That was the point, says drummer Jean-Paul Gaster. "We really tried to reign in the jam aspect of the band. We like to improvise a lot, but this album, we really wanted stuff mapped out. We wanted to go into the studio fully armed to make a really powerful record."
"I'm excited about its succinctness, and how balls-to-the-wall it is," says frontman Neil Fallon. "The length of an LP is optimal for enjoying a body of new music, approximately 40-45 minutes. There's something to be said about Side A and Side B. It's more cinematic, and that was the approach."
The album began taking shape when Clutch toured with Mötorhead, then Thin Lizzy. Revisiting those two favorite bands, they were able to apply their own experience as musicians to better understand the dynamics of their heroes. "The songwriting process happened around the time of those tours, so that really sank into our writing," Sult recalls. 
"Maybe people expected us to go more acoustic or bluesy, but this album definitely showcases a riffs-in-your-face kind of style. These songs ended up being faster and a bit more rocking."
"Overall, we wanted the album to pick up the pace a little bit," bassist Dan Maines explains. "Songs developing at a faster tempo led to a very straightforward songwriting approach." That songwriting simplicity is also indirectly a result of the Basket Of Eggs EP issued two years ago with the Weathermaker re-release of Blast Tyrant. "That acoustic stuff represents a new style of writing for us," Maines says. "It kind of forces you to strip down what you're playing. We had almost two years to spend on the writing process, and we had a lot of ideas. Having two years allowed us to trim the fat."
Clutch are passionate students of rock and roll, and music in general. Gaster's love of a good shuffle brought that rhythmic approach to nearly half the album. Professor Longhair's "Bald Head" — notably the loping style of Earl Palmer's swinging eight notes — was a direct influence on Earth Rocker. So was Thin Lizzy drummer Brian Downey, also a shuffle monster.
"When you hear a light shuffle, or the brushwork on 'Gone Cold,' at first it can be a headscratcher," says Fallon. "But when you join in, you will be taken to a place you wouldn't have gone by yourself."
Fallon's reputation as a clever lyricist will likely grow once people hear Earth Rocker. His approach is similar to writing fiction. "You've got to do it convincingly. There's a bit of theater to it, in a way. The four minutes a song is being recorded or performed, I can convince myself that I'm an expert on whatever subject I'm singing about, even if I don't know exactly what it is."
"There are some tips of the hat to rock and roll history in the lyrics that I enjoy singing because they reference the album in a bigger picture. 'Rocket 88' is considered the first rock and roll song that used distortion. That lyrical reference on 'Crucial Velocity' kind of fuels Earth Rocker as a whole with that back story. It's American myth, even though it really happened."
Not everything on Earth Rocker is strictly vintage rock and roll. Maines made sure his love of the aggression and minimalism of Bad Brains and Fugazi was applied to these tracks. "The simpler the better, and I really tried to keep it streamlined and a little more focused.
CLUTCH Gear Up For European Tour – New North American Tour Dates Announced!
Maryland rockers clutch are off to Europe this week for a five week tour that includes festival dates and club shows. CLUTCH have announced the next North American legs of the "Earth Rocker" World Tour. The tour starts in Edmonton Alberta for the Alberta's Own Festival. The US run of dates kicks off September 14th in Baltimore, MD with an appearance at "The Shindig Festival". Support on the headline tour in September will come from The Sword and Crobot. Support on the October and November shows will be provided by The Sword and American Sharks. Tickets for fan club members go on sale Wednesday June 5th and for the general public on Friday June 7th and Saturday June 8th. Go to pro-rock.com for fan club early ticketing.
In addition to the new dates, CLUTCH has also confirmed that they will be returning to the newly opened Starland Ballroom (which was severely damaged by Hurricane Sandy), this December as part of their annual holiday tour. Dates for the rest of the holiday shows will be announced later.
Any fan's dream is to know what it's like to be on the road with a Rock and Roll band, but you may be surprised to see what it's really like - long periods of boredom, broken up by brief periods of intense activity and most of all hard work. The working man's Rock and Roll Band CLUTCH will be posting a tour blog throughout their European tour on how it really is. The first post is available today and can be read on the band's Facebook Page and http://www.pro-rock.com.
Frontman Neil Fallon recently taped an appearance for VH1 Classic's "That Metal Show". The episode is set to air July 13th on VH1 Classic. More details can be found on the VH1 Classic Website.
Earth Rocker was released March 19th via the band's label Weathermaker Music. The album entered the Billboard Top 200 chart at #15 achieving the band's highest chart position to date. The album then proceeded to hold its own on the Billboard Top 200 for a total of 5 weeks. The album also came in at #1 on the Hard Music Chart and #3 on the Independent Album Chart. The digital demand for this album continues to be very strong. In the week of release Earth Rocker shot to #4 on iTunes' overall Top 100 album charts and was #1 in their rock chart.
Earth Rocker is available for purchase at the CLUTCH Merch Store.